Our approach to Cotswold Morris is to see it as a living tradition. We like to build our own elements of originality on a solid foundation of the distinctive character of each village tradition. One aspect of this is that we prefer to have the music fairly slow, to give time for the hankie movements and stepping to be clear and recognisable.
As a still-new side, we're still building up our repertoire, mostly taking on village traditions one at a time, so that we can focus on getting the important stylistic components right. This is partially about learning the core features, but also about working out what the Cracken style is.
Fieldtown (Leafield)
We started out learning five Fieldtown dances, because seeing these done well made us say "that's what I want Cracken to be about".
Valentine
This was our first dance. We dance Valentine for six and for four people. We like to adapt corner dances for four because we get impatient standing about! Other than that, our Valentine is quite standard, except for a cry of "Woosh" during rounds. Traditionalists might hate it, but its an expression of our joy.
Banks of the Dee
We sometimes dance this for six but also quite like our adaptation for three dancers, which we've dubbed "Bank of the Three". This isn't just half of the six person dance ("Bank of the Dee"?); we've made a few changes to make it more watchable. We also do a double Banks of the Three, which isn't the original dance either. In principle, any multiple of three is possible…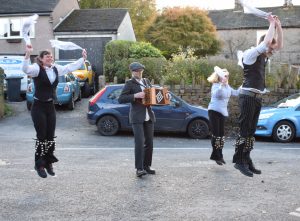 Nutting Girl
This is really a jig but we dance it out as three dancers around a musician, making a 'T' shape. We also use the tune usually used for Bampton Nutting Girl.
Signposts
We only perform our four person adaptation of signposts. It preserves the essential elements of Signposts, around a hey involving movement across both diagonals of the set, which we invented over a couple of practices, drawing on an element in a Powderkegs dance (several of us dance with Powderkegs).
Step Back (Old Molly Oxford)
We do this dance following convention.
Old Woman Tossed Up in a Blanket
Our version has quite a different (and the musician thinks nicer) tune to dances of the same name from other villagers. The corners have been replaced with a figure for all 6 dancers and we've added a half hey after the slows. This makes it a much more dynamic dance, and we've been using a fairly quick tempo, which makes for contrast with our other Fieldtown dances. We've also recently adapted it in keeping with the idea of the dancers being six people holding a blanket, and giving an old woman some air time; everything has become much more round-shaped.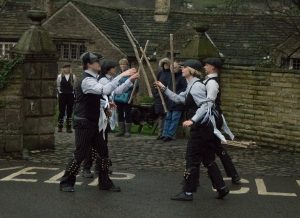 Balance the Straw
At last our sticks (collected Winter 2017) are seasoned enough to use, and we've got a new-to-morris new member, so Balance the Straw seemed like the "next thing". Its quite a simple dance, done normally, but because we get bored easily, we often add in a set rotation and some stick throwing… There is a simple version for four and a rather mad version inspired by the performances of Kesteven.
Bledington
We were introduced to Bledington when Ged Morton from Chapel Morris Men offered to teach a workshop. There were plenty of wide grins from the dancers, and by the end of the workshop, it was clear Bledington was our next tradition.
William and Nancy
This dance is done with large flambouyant movements, and the music slowed right down. Everyone (except the musician) ends up out of breath by the end of this one.
Gallant Hussar
We dance this for six and four people, and punctuate it with a shout of "hussar" in the middle of the dance.
Young Collins
We do this quite conventionally.
Adderbury
Black Joak
We just love this dance… its a blast!
Blue Bells of Scotland (Adderbury)
We do this quite conventionally.
Postman's Knock
We usually miss out some of the choruses so the dance has a lot more action.
Other Villages
While our approach is to build a repertoire around particular villages, taking the time to get under the skin of the distinctive features of each village tradition, we also cherry-pick.
Bonny Green Garters (Bampton)
It would be rude not to!
Highland Mary (Bampton)
We do this quite conventionally.
Upton Hanky
Done straight… no messing.
Bleddy-Bamp
A curious combination of Bledington Saturday Night, followed by a Bampton dance to the tune of Just as the Tide was Flowing. Actually not just the tune, but danced to the song, in a joint venture with Chinley Community Choir (when available, otherwise watch out for us coming round with sheets of words!).
Lacemaker

This is not a traditional dance, but we understand it was written sometime in the 1970s. We were taught the dance by Kate Ridley from Leek Morris, who learned the dance and the tune in the 1980's. We have been unable to find either the dance or the music anywhere on the web. The tune is delightfully lyrical and the dance style is largely Fieldtown, but with a touch of Bledington.
Not Morris
Kick My Arse Dance (Wyresdale Greensleeves)
We couldn't resist adding this one to our repertoire, here performed by the New Rope String Band. It isn't Morris, but it is traditional.
Yellow Basque (The Pateley Longsword Chicken Dance)
We saw Pateley Longword do a bonkers dance at Buxton Day of Dance…. completely not longsword. They call it the Chicken Dance. It tickled us so much we asked them if we could do it. They agreed and we're now in the process of making it our own by blending in just a little bit of Cotswold sensibility.
Suspended
Currently on hold until we find some more dancers who don't mind getting broken.
Trunkles
Suspended for bad behaviour.
Glorisher/Glorishears
There is a distinct possibility of carnage with Glorisher!