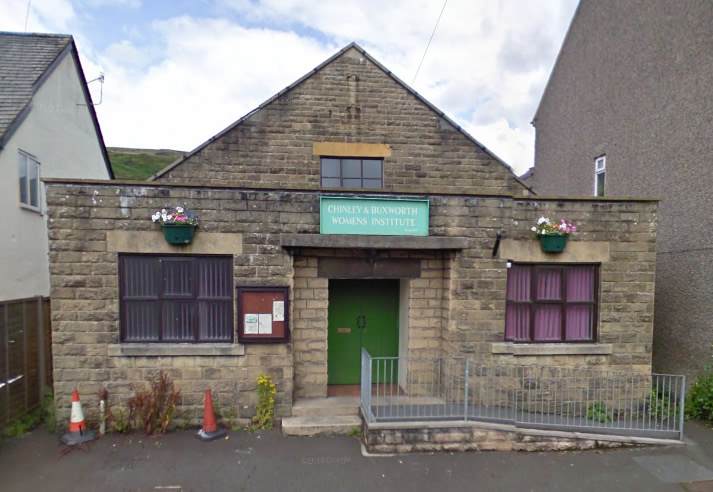 We practice at the Chinley Women's Institute Hall from 8pm to 9:30pm on most Mondays, except Bank Holidays. It is conveniently-located very close to Chinley Station, on the Manchester to Sheffield train line. It is a spacious hall with ample room for practicing the kind of large energetic figures we love.
Sessions involve a fairly random combination of: teaching beginners, running through dances for practice, working on "style points", learning new dances together, working out variations, general chat and banter, …
Interested in Joining?
If so, we'd like to hear from you, whether you are an experienced Morris dancer, a ceilidh dancer, or a complete beginner. Previous experience is not required, but you will certainly have to be fit and active and aspire to be someone that an experienced dancer would (at least) describe as being "not bad".
We accept new members at any time of the year, although the summer months are generally for dance-out rather than practice. Please email us, or even come and find us in the pub, if you would like to find out more, or to arrange a date to come along and try us out (better than just turning up, as the planned session might not be a suitable introduction).
We don't have a membership fee, preferring to put money in the kitty to cover hall costs as we go.
Organisation, Officers, Committee
Cracken Morris is an anarcho-syndicalist organisation (nod to Monty Python and the Holy Grail, Scene 3). While that is not an entirely serious statement, we do try to work by consensus and we do not have a committee or "officers". We see the conventional morris side roles as being useful labels for jobs which get shared around, rather than being strict about who occupies this or that position.
Squire – our spiritual leader, Sam, who catalysed the formation of Cracken Morris through a combination of enthusiasm and the initial organisational leg-work. Sam keeps an eye on the side and nudges us when needed.
Foreman – we divide the traditional foreman role by having different people look after practice different village traditions. Sam looks after Fieldtown, while Peter has taken on Bledington. The foreman's role is that of a facilitator – they help the side to collectively decide on repertoire, style points, etc – and as a standard-setter who makes us "do it again" until we get it right. We've kept "foreman", in spite of "man" being out of place for a mixed side.
Bag – someone has to collect money, pay hall fees, and occasionally make stuff happen. Adam does most of this but we all muck-in.