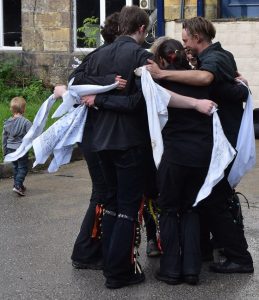 Our first ever dance-out was at Clarence Mill as part of the Bollington Folk and Boat day on Sept 9th. Cracken concluded the day's dancing after various of its members had been taking people on canal trips – Jason, who works for Bollington Wharf Marina, the organiser of the day – dancing with Powerkegs Border Morris, or playing in the music sessions. There was some absolutely torrential rain during the day but the sun came out for us and all the dances went well. We're not all in 'proper' kit here, because… well, we hadn't got our act together yet (and you can spot some Powerkegs bell pads in service).
Bollinton was a grand day out, and we gained a new member, Lucy (visible in the background of one of the pictures, lurking about after an afternoon in the music session).
We'll be back at the 2018 Bollington Folk and Boat!
Gallery