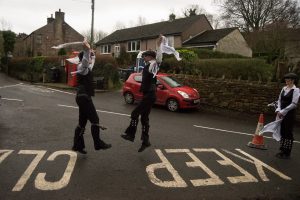 Back to our "regular"… a first outing for our version of "Bleddy-Bamp", a rather fun combination of Bledington Saturday Night and a Bampton Dance to the tune of Just as the Tide was Flowing, for which the audience were provided with word sheets and encouraged to sing the song. They did! Cracken gets a quality audience.
Also a first dance-out from our newest member, new to morris only a few months ago, but coming of the closet out with style!
We danced our entire repertoire to keep warm, then those with nothing better to do headed across the road to the Papermill to play a few tunes.